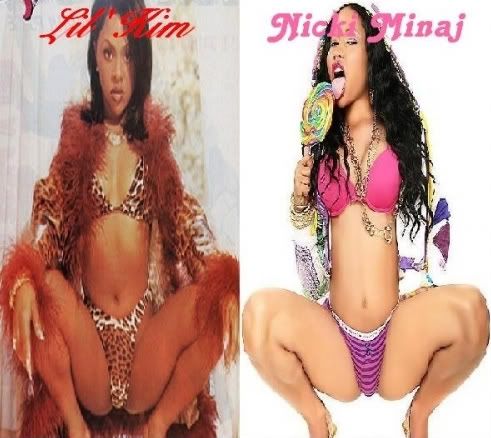 In this video, Queens rapper Nicki Minaj said "I would not want to paddle my career after any female... especially any female rapper."
This is the watered-down Queens version of Lil Kim we're talking about.
Look above at the pic with the open thighs and p*ssy aimed straight at the camera like Lil Kim's Hard Core pose. Nicki Minaj even redid Lil Kim's "Jumpoff" joint and took Biggie's "Warning" and remade it-- and sounded just like Kim as she was doing it.
And then she says-- in all seriousness-- that she would never want to be thrown in the same boat as any other female rapper...
Riiiiiiiiiiiiiiight.
Too bad she looks better than her raps sound. Sometimes that's what labels want. But in this case, the gimmick is too obvious to actually work.