Okay, so this has become yet another cliché, but until resolved, it will remain relevant: What can bring New York back?

As someone told me, it's a shame that the most anticipated albums of New York City hip-hop comes from rap veterans over the age of thirty. While many of them are respected, such as Ghostface, Nas, Method Man, Jay-Z, Busta Rhymes, LL Fool J, and a few others, this kind of leaves a limited space for newer rappers to emerge; a lot of the attention is focused on the big dogs of the game, thus leaving the younger and/or newer cats as a last resort.
In addition to that, watered-down, run-to-where-the-money's-at rappers, such as Fat Ho, don't realize that their retirement would pretty much be well appreciated, and would play a big part in keeping the rap game fresh. Right now, there's too much congestion, and not enough room for growth.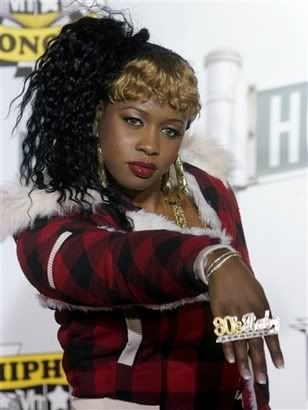 VH1 Hip-Hop Honors
"All rappers who is over thirty should not rap. I think there should be an age limit. I got five more years to go... I was born in the '80s. '80s Baby' means you were born in the '80s, not that you were alive in the '80s." -- Remy Ma
Sound familiar? Last spring, Cam'ron started a boring episode of "beef" with Jay: "You talking bout you an eighties baby you 37 years old/ You was born in 1968..." He also mentioned once that nobody really wants to hear an older dude rap (or something like that), which, if you really think about it, is real talk. As his twenties are coming to a close--if they haven't already--he should (prepare to) take his own advice.
If you analyze the present rap situation, the thriving regions have fewer older cats and more of a younger batch of rappers coming up. Even though the quality of their music is sickening, it is what it is.
Cats like Jae Millz, Cory Gunz (who's lyrical content is crazy for his age), and others, are always going to be --in a way--outshined and left on the shelf for next best as long as the older cats continue to keep the game saturated. People think "the game needs them," but we really don't (okay so we need a few). And even if some of the younger cats aren't that nice, it would help to allow them time to shine; with exposure comes encouragement, and development as well.
No disrespect, but New York City needs to be refreshed, reconstructed, re-everything. Put the mic down and let the younger cats do their thing.
-----------------------------------------------------
SOHH NYC is giving away 3 pairs of tickets to the CMJ Showcase in New York City on Tuesday, October 31st featuring Freddy Foxxx, Stetsasonic, J-Live, Prince Paul and The Ill Out Crew, CL Smooth, AG, the Juggaknots, Mojoe, Chen Lo, Nemiss and others! To enter, send an email with your name, phone number and your email address to sohhnyc@sohh.com between 10/9 - 10/20. A winner will be selected randomly and will receive the tickets by 10/27. (Must 18 or older participate.)