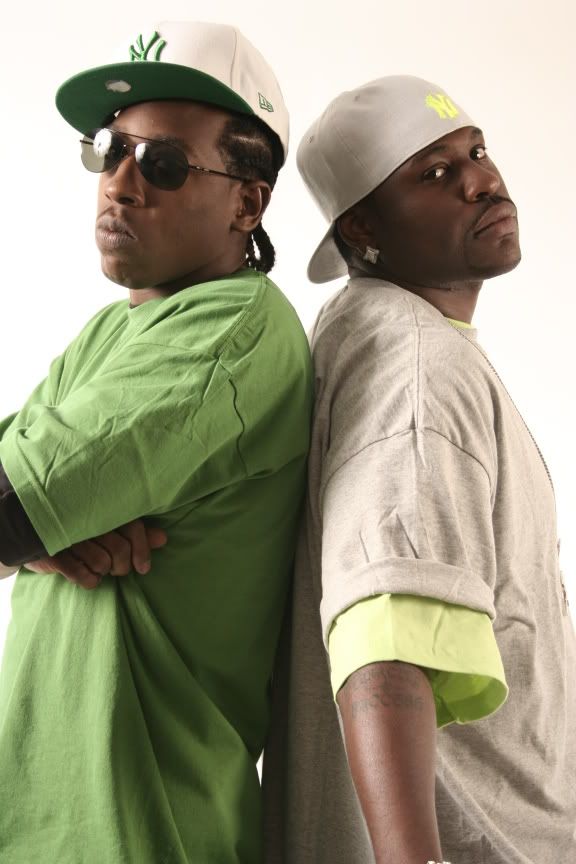 The Ranjahz's Haph and Wais
It's been a long time coming since their days with Jay-Z and Def Jam, but The Ranjahz are back. Coming straight out the streets of Brooklyn, the prolific rap duoâ€"known to many as lyricist Wais and musician Haphâ€"have a lot in store for the hip-hop world, as their plan for takeover is backed by Bad Boy's super producer Derrick "D.Dot" Anguliette (Biggie, 50 Cent, Diddy, to name a few). "Rap's next super group," who have worked with big names such as DJ Premier and Cee-lo Green of Gnarls Barkley, to name a couple, sat down with SOHH to discuss what went down with Hov, their mixtape Operation Awareness, their plan of rap invasion, rappers (incorrectly) trying to rap about drugs, and good ol' hip-hop politics.
SOHH: You've been gone for a while so reintroduce yourselves to the hip-hop world.
Wais: It's Wais [pronounced "wise"]
Haph: H-a-p-h, voice of the haph-nots.

Wais: We the "rain-jahs," that's how it's pronounced. Yeah…we from Brooklynâ€"from Crown Heightsâ€"came a long way we was babies in the game. We grew up in this music game right here. We met Hov when we was like 17 and got a quick crash-course in the industry. You know, we had a bunch of different white labels and singles and different situations that brought us to this point. We was on a Grammy Award-winning album. Sold 5 million. Haph produced some prolific artists, which expanded us as more than just rappers, 'cause you know, we got a studio and Haph is doing incredible production. All of these different factors have brought us to this point right now where we feel like we can drive our own ship.
SOHH: So you were once down with Def Jam and Team Roc right?
Haph: Yeah…actually it was… we had a situation over at Def Jam where like basically, Jay co-signed an imprint deal. And it was basically ran by fellow family members like…which basically fell through 'cause the management…we just weren't on the same page at the time.
SOHH: So you've pretty much moved on and you're working on a new album at the moment?
Wais: We're working on a new movement. It's bigger than just an album. It ain't even about an album, that's easy to do. It ain't about gettin' what these dudes term "a deal" is gettin.' A "deal" doesn't guarantee you success. It's nothin.' Right now, we just wanna be rap's NEXT super group. That's what they need to put in quotes: "rap's next super group." We're doing it all internal; creating our own record company structure, being able to call our own shots, having our own studio, having our own production… D.Dot right now is the executive producer and overseeing the whole project. If anybody knows hip-hop then they know Dot. So it's bigger than what cats' usual ambition is.
SOHH: The album that you're working on, besides the movement…do you wanna talk a little bit about that?
Haph: Well actually we not even working on an album. We're constantly recording like everyday. Wais'll come to the studio and I'll be like 'hear this, hear that, hear that.' Like, 50 songs. Hard… hard, we goin' hard on them. We're not even doing an album. We're just recording a bunch of songs, and putting out mixtapes, and just doing it, like an album, like a record company would do it like…promote an album.
SOHH: Well I'm big on the underground scene. That's all I really listen to is mixtapes right now. So when's the mixtape dropping?
Wais: The mixtape is coming in about two and a half weeks [which would be right about now] called Operation Awareness Part One. I mean, it's a mixtape but it's just like an album 'cause, who we got on there? Anthony Hamilton, we got Petey Pablo on there. We got Papoose on there, we got [Memphis] Bleek on there. I mean, production by Green Lantern. So that's why I said it's more of a movement than just an album. So by the timeâ€"I mean we got a fifteen-month planâ€"by the time our album come out, we're gonna be so known, we're gonna be in your backyard, in your home by the time that happens.
Haph: On that particular project, we don't have any tracks that cats was rappin' on prior, nahmean, it's all original beats. We got a cat cat from out of Germany who comes with straight fire on the regular, you know, and myself, bangin' it out. So it's an album. We putting out a mixtape but it's like an album. It's not like we getting on there and kicking a bunch of freestyles.
Wais: No throw-aways. No throw-away records. We got Ras Kass on there. We got 40 Glocc on there from the Infamous/G-Unit. Nahmean. All these people did it out of respect for the flow. No checks was cut.
Haph: They did it out of love. Like, "Operation Awareness," it's all about the awareness. That's all we doing this for. Nobody was even trying to get paid. We just getting the awareness out, letting cats know… like we never left. We never stopped working. Not because you never heard us or seen us means we fell back and was like 'fuck rap. Fuck hip-hop.' Nah…
SOHH: But you know what…Ghostface said 'fuck New York.' And I mean, and I say 'fuck hip-hop' with the way New York rap is looking. I mean, what is your take on that?
Haph: You say fuck hip-hop 'cause you're not hearing that real. The minute you start hearing that real you gonna start loving hip-hop again. And that's what we're here for. To make sure you love hip-hop and that you never stop loving hip-hop.
Wais: Our biggest thing is that we've always been the biggest duo. We always have. We just never had an album out. So now our mission is to get the music to the people. We've been the best duo but we gotta get the music to the people to let the people judge. That's been the problem. We haven't been able to let the people get it and now the climate in hip-hop is fucked up but at the same time, the powers that be done fucked up 'cause now, with internet savvy and the street savvy you can get the music to the people without going through the major corporations. And you'll be able to give them the real thing.
SOHH: Right… 'cause this is my thing. You had D4L, you have Yung Joc, and they're all selling records. But you have the good quality music that's not selling…
Haph: But at the end of the day, I blame it on the record company, 'cause at the end of the day it's all about a dollar. They don't give a fuck about the artist, it's about they company. It's whoever's hot at the moment. Everybody got they time, that's how I look at it. But I think New York cats and East Coast cats specifically suffer because, they tend to just not make good music. They'll go in the studio and rap about shit that makes no sense. They'll rap about what this cat is saying. I mean, we all do that to a sense but we stood in our own way. We got our own… nahmean, it's crazy.
Wais: Niggas' ounces don't even be matchin' up [laughs].

Haph [laughing]: Niggas be tryna talk about drugs…
Wais: They ounces, grams be wrong [laughs]
Haph: 25 grams [laughs]
Wais: Nigga 28 grams get your shit right, dog. [laughs] Nah, for real though…
Haph: I think cats just fail to make good music. A lot of dudes go in the studio and do what other cats are doing, or what the trend is, as opposed to making good music. Like, when we go in the studio we have no set plan. 'That beat is hot…Wais, make a hook. Haph, spit a verse….' Simple. And at the end of the day, we comin' out with fire, guaranteed. Real talk. Like we don't got no blueprints for this shit. We don't go in the studio with a set plan. We go in there and it's straight out of the heart, all day everyday. And we got that street shit of course, we from the street. But I always tell cats like, 'you from the 'hood so step it up' … the drama is right there we ain't gotta go searchin' for that. You spittin' on every track, you spittin' a given. You statin' the obvious, like, on every track I hear, you spittin' the same shit. Now, you got cats that's scared to dig deep down and really spit that shit. We goin' through shit. We all got problems we all got issues whether it be the block the home. It's different ways to spit shit and to get your point across other than…
Wais: Put your personality on the record so by the time they finish listening to your whole project they feel like they know you. That's what's important. That's why Lyfe [Jennings] can creep into 800 grand on the low without major promotion….Then you got dudes that spent 6 million promoting and didn't move as much as he did, understand what I'm sayin'? So… our whole thing is to not really follow what everyone else is doing 'cause hip-hop always been about 'look at me I'm doing something different.' But at the same time, staying to what's true to us.
SOHH: Right. Now this is something that comes up a lot. And maybe I just brushed up on it with the whole Ghostface thing, but do you feel like hip-hop is dead right now?
Haph: Actually we did a song that's called "Hip-hop is Dead." Um, nah. I don't think hip-hop is dead. I just think it's going through changes. That's how I'm lookin' at it. There's gonna be changes but, everything that goes around is gonna come back around. It started here, it's gonna end here, that's how I feel about it. So I ain't scared at all.
SOHH: So you think you have what it takes to put New York City back on the map…
Haph: Not even New York City. Not even East Coast period. We putting music back on the map. Like, when you pop that shit in you go, 'damn that shit was a banger. Damn I wanna rewind it but I wanna hear what's next.' And the next song come on, 'Damn I wanna rewind it but I wanna hear what's next.' So at the end of the day, you heard the whole shit song after song without even rewinding no tracks.
Wais: Hip-hop's next super group. Not hip-hop's hot East Coast group. No. We're bigger than that.
Haph: Real talk. I'm playing guitar, electric bass, acoustic, keyboard, whatever. So It's bigger than just rap you know. When you hear it you gonna go crazy. To me, I'm more passionate with it. When I spit it, it's gonna come straight from the fuckin' bottom of my shoe, yo. Straight up.
SOHH: So you taught yourself to play guitar, produce, engineer… everything you taught yourself?
Haph: I taught myself everything. We got all our equipment back in '98, '99, and then I was calling every engineer I knew like 'yo I need help with this,' and after that, I ain't get no help to this day. So I was forced to learn on my own and it all worked out. 'Cause I've mastered it now. I've been messing around with music since forever. Back in the day we had the turntables and all that, so it's always been in my blood.
SOHH: So that's how you first started out, with the turntables?
Haph: Yeah DJing and all that.
Wais: And hearing that, being self-taught, that gives another respect to the music 'cause it's like, it's not synthetic. It's not microwave music. It's shit that niggas is sweatin' and bleeding over. And putting they own time. Light up the L, and we gon' get this thing right, nahmean.
SOHH: So when did you start rhyming?
Wais: You know I don't even look at it like that. I don't even really rap. I just sort of reminisce. I just go in and record. I mean, neither one of us write on paper we too busy making moves. I ain't got time…
SOHH: You don't write any of your rhymes? It's just straight from the top of the head? A lot of rappers can't do that.
Wais: Strictly from the heart. It's straight from the heart and soul, so, we ain't don't write nothin.' All that writing and remembering… you might as well have someone write it for you. Just do it that way…
SOHH: Wow…well that pretty much wraps it up. You got anything else you wanna say?
Haph: Check us out at Myspace/theranjahz. We got good music on there. The 40 Glocc joint is on there… the "So Emotional."
Wais: We got an exclusive song on there featuring Gnarls Barkley, that niggas ain't heard…. "Rap's next super group." That's what we striving for.